Hello again, savvy traveler. The time has come to meet the three faces of Hvar, the benevolent island god of extremely pleasant vacations.
There is no doubt that Hvar is a premiere Croatian holiday destination. But in getting the most out of the island with so many different delights, much comes down to the respected holy trinity of location, location, and location.
We have discussed previously that Hvar vacation often means very different things. An island of natural beauty and sun, an island of parties and nightlife, an island of peace and quiet. All at the same time, neatly packed in 115 square miles of pure Mediterranean bliss.
With so much choice and such an array of completely different experiences, a lot will depend on where you choose to hang your hat.
Browsing the vast offer of holiday venues, one can get lost in the list of gorgeous villas (believe us, we have tried). Fortunately, we have worked up a list to help make the choice that works best for you. Get you to connect or disconnect as you see fit.
You'd like to know more? 
It's good that you asked.
Because…
…that's what we are here for.
TRUE LUXURY: Hvar away from the crowds
Sometimes you wish to spend your holiday away from the bustle, enjoying the peace, quiet and privacy. In the world we live in these days, this kind of quality time should be savored. We like to call it — true luxury.
Villas we recommend in this category have a few things in common. They are secluded and located in carefully selected spots. As they are surrounded by nature, you can peacefully engage in many outdoor activities, like hiking, cycling or yoga.
The estates are usually quite large, offering many different activities at the premises, so you only need to leave them if you want to during your vacation.
They are also, in most cases, self-sustained and eco-friendly.
Their luxurious interiors and authentic exteriors brimming with Mediterranean sounds, fragrances and sights make an ideal home base for a very meditative, zen-like experience.
CHOOSE IF: You believe that true holiday is a rest for body and soul. You love nature and exploring. You desire privacy and solitude.
AVOID IF: You don't like the idea of having to drive to the nearest town. You want to be in the thick of it.
Browse the list and make one of these your home away from home. Away from everything, really.
ALCYONE
Experience veritable Hvar Zen in the villa where words are very unnecessary... This solitary mansion, surrounded by pristine nature is a perfect escape for a weary traveler.
An 8500 m2 estate located near Basina, Harpocrates borders the UNESCO protected heritage site — Stari Grad Plain.
Get ready to choose your own adventure.
Dip into a heated pool or seek to connect with the nature on the peaceful beaches of the nearby Oskorušica Bay.
Give in to your gastronomical ambitions, using a stone outdoor stove and a host of Mediterranean herbs and fresh fruit growing in the garden or let us arrange for a professional chef and enjoy his creations.
Come in the summer and relax in the sun or visit in the winter and enjoy lazy evenings snuggled beside a stone fireplace.
Stay inside in the modernly designed villa or step outside and behold the true Mediterranean.
ZEUS
Exclusive, private, and luxurious villa Zeus is a study in contrast. A gorgeous playground of color and materials. The warmth of wood pleasantly contrasted by the coolness of hand-carved stone.
Should you decide to spend your time on the estate, there is so much for you to indulge in.
Pamper yourself in the wellness area with Spa, Jacuzzi and a modern gym. Swim against the current in the pool. Lounge and dine beneath a pergola and taste spectacular local wines hidden in the cellar. Challenge yourself at the tennis court or try your hand at bocce and feel like a local.
Enjoy and, above all — disconnect.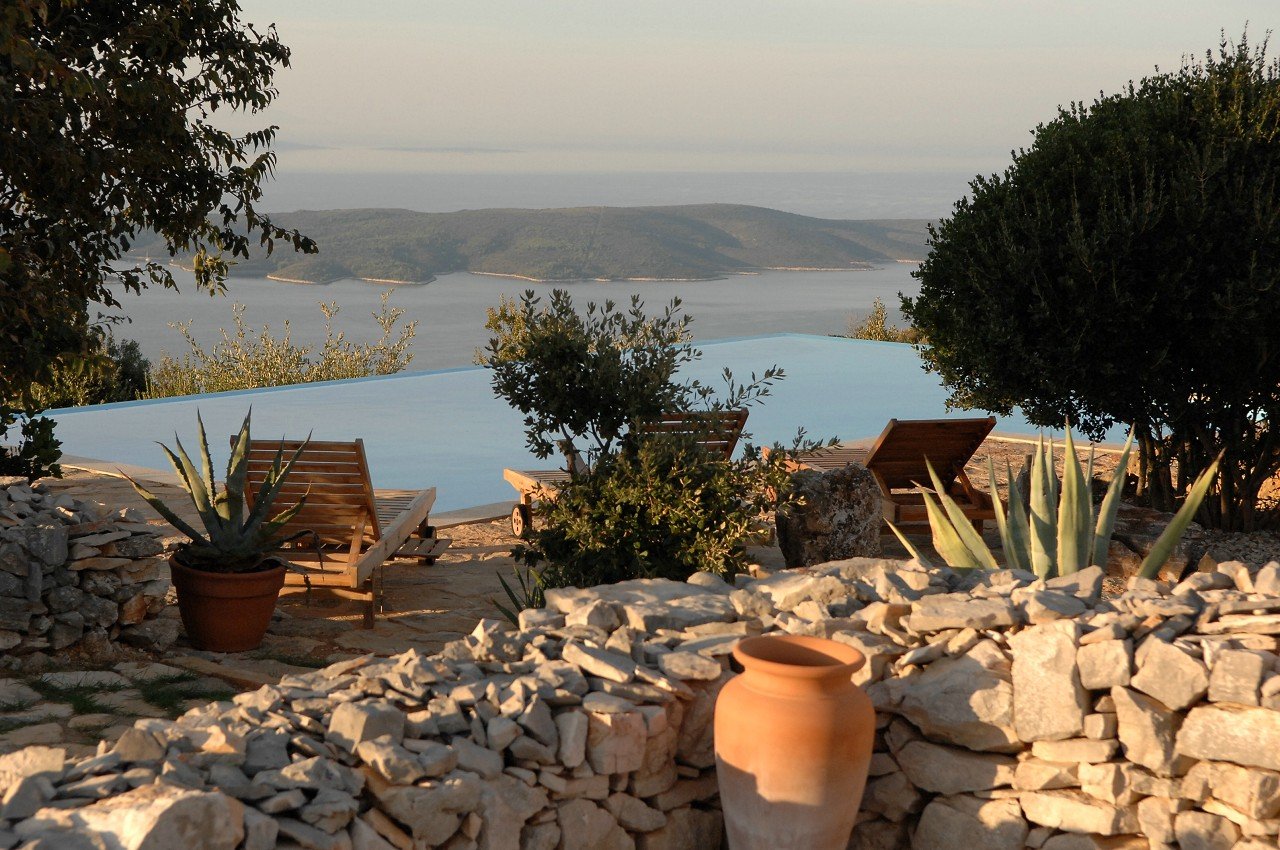 EOS
There are many reasons to settle, even for a brief while, at this 30 000 m2 authentic Dalmatian paradise.
The vastness guarantees absolute privacy and the location is just made for souls yearning to relax, become one with nature, and find inner peace.
Eos is a super-luxurious and self-sustainable eco estate, thoughtfully furnished with a blend of modern and antique pieces. Surrounding it is a lush, bucolic garden bursting with the sweet smell of lavender and sage, olives, figs, and cypress trees.
Step outside the villa to discover various sports courts and an infinity pool with a soothing view of nature and the sea.
Contemplate, relax, and enjoy your time on Hvar absolutely unburdened.
CHAOS
Chaos stands for change, rebirth, and variety.
She rests peacefully in Veli Dolac cove, surrounded by a vast and ancient olive grove, just a 100 meters away from a lovely pebble beach.
Villa is a hip blend of authentic Mediterranean touches, like vintage oak floors or hand-made wooden furniture and modern details.
Chaos blends effortlessly with the surrounding countryside and radiates a special kind of positive energy, very hard to imagine until you have experienced it. It is easy to fall in love with this place. Visit, bask in the sounds and fragrances of nature and forget about the outside world in this incredible slice of heaven.
CAERUS
Sometimes, choosing a perfect spot is all about the view. A search for images that fill the mind with joy and warmth.
The ideal location on top of the hill, where this 7000 m2 walled, private estate was built means that Caerus will deliver like no other.
Just let the gaze escape to the vast blueness of the sea dotted with islands, extraordinary sunsets, and the pristine nature — You will know exactly what we mean.
The design of the villa matches the natural beauty around her. With a charming olive grove, a swimming pool, spacious and cozy interior and a host of amenities like sauna and fitness area, a vacation removed from the crowds never looked so good.
This is the first part of three-part series. In the next one, we will check out the list of villas in the larger towns of Hvar. Stay tuned.
*Author - Filip Šibl