If you're looking for a small town with a soul to offer, welcome to Jelsa! The town is situated in the middle of the island of Hvar, and has been welcoming guests since… well, almost always. In Jelsa's case, first hotel (under the name Jadran, the Croatian word for Adriatic) was opened in 1911, but Jelsa's penchant for attracting visitors started when bishop Juraj Duboković opened Hygiene club Hvar.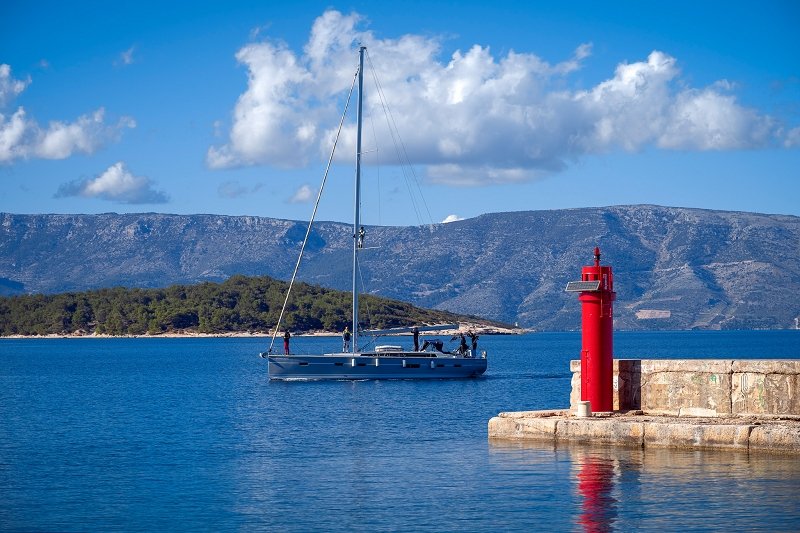 Jelsa is surrounded by the two highest mountains on the island – in the west, you can see St Nikola, and on the east Hum. On the south side of Jelsa, there are mountains Vrh, Samotorac and Gozd – ideal for all you active travellers. Just don't be fooled – Jelsa's mountains are hardly Velebit, but summer heat can be quite something to take, so be careful when attempting to conquer those heights.
Jelsa is small, cosy and charming. Despite Hvar's popularity, and growing number of visitors to the island in the past decade, Jelsa has managed to keep it's traditional, small town vibe and it's pomalo (keep it slow) philosophy of life.

What to do in Jelsa?

You can visit Galešnik, remains of a late antique fort. Galešnik is situated on the plateau in the hills above Jelsa, and recent archeological research has dated the remains to 6th century. Read more about Galešnik here.
You can also visit Gradina. At the beginning of the 17th century a church and monastery dedicated to St. Augustine were built just east of Jelsa -on a headland called 'Gradina', which means 'fort'. Read more about Gradina here.
And of course, don't miss the most exquisite Jelsa view. It belongs to the Medieval chapel of St Luke, some 4 kilometers from Jelsa. It's tiny, situated above the sea, and presents quite a photo opportunity. Read more about the chapel here.
There are also number of festivals and events in Jelsa, which you can read more about on Tourist board of Jelsa. Check the web-site for some cool suggestions, including our Daily Escapes. More ideas, itineraries and information here.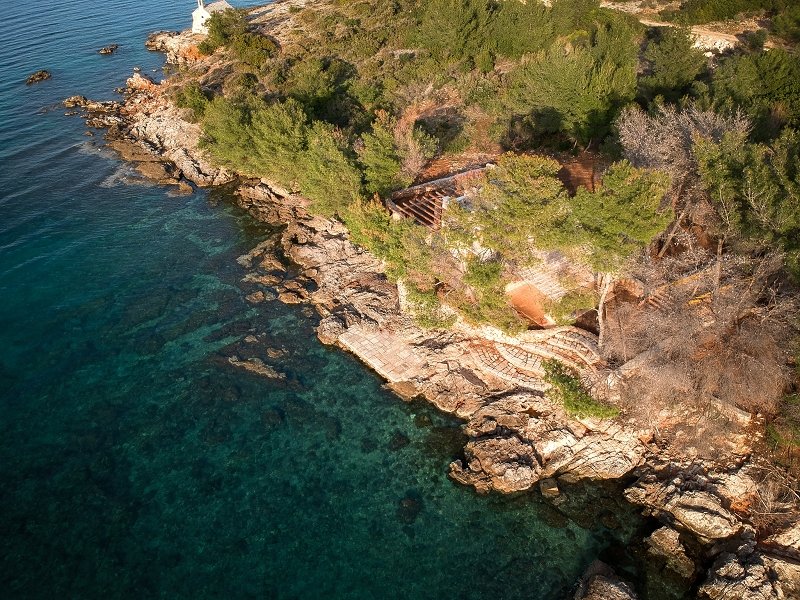 Where to drink and eat?
Jelsa offers quite a number of places to enjoy good food. People here, after all, love to eat and love to cook, so you'll be hard pressed to find a bad restaurant or a bar. Here are our favourites: Konoba Nono, Me & Mrs Jones and Prošperin. Those are places that connoisseurs enjoy – what more recommendation do you need?

Where to stay?
Ah, now you're at our territory! We absolutely love Jelsa, and some of our best places are in Jelsa, or very near.
Our choices are:
Villa Leucothea - accommodates 6 people -
She was a sea goddess who aided sailors in distress. Something about this villa reminds us of the absolute serene quality of a safe haven. We can imagine how we, as sailors while sailing on the sea of life, encounter Leucothea who shelters us from any kind of trouble in its beautiful refuge by the sea.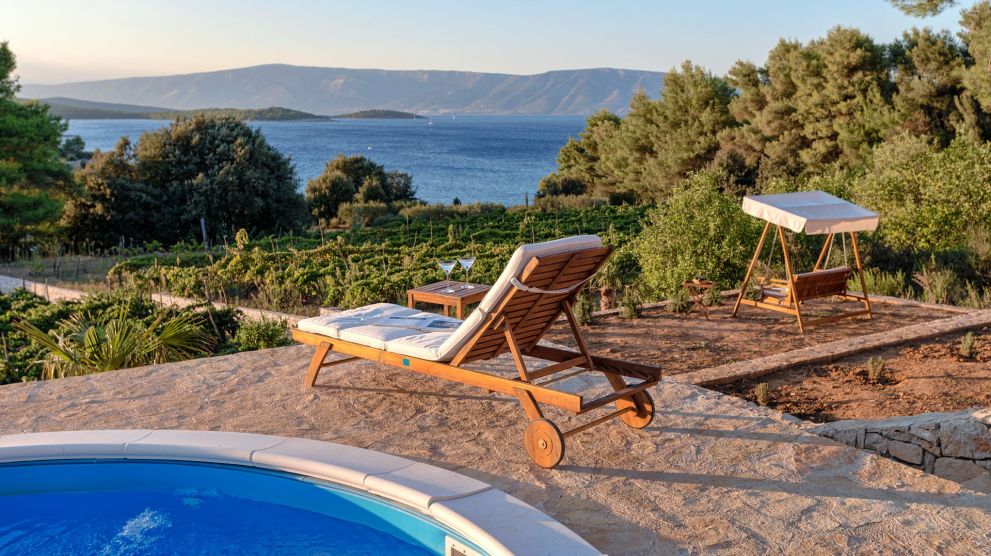 Villa Bia - accommodates 8 people - 
Lovely villa Bia is in the second row to the sea, with a swimming pool surrounded by nature's green bounty. A perfect place for an even more perfect and relaxing vacation; smell of the sea, twitter of the birds, sunbathing on the terrace and relaxing by the pool in the company of Mediterranean flora.

Villa Glaucus - accommodates 8 people - 
Glaucus was a Greek prophetic sea-god, born mortal and turned immortal upon eating a magical herb. A villa located about 10 meters from a pine forest and about 50 meters from the emerald-blue sea can only be named Glaucus. In the case of Hvar, Glaucus was given an additional bonus, a large shimmering pool with four massage jets; in any case, it fared much better than it did in Greece.

Looking for something a little less extravagant, but still luxurious? Try our Jelsa cottages.
Cottage Crios - accommodates 4 people - 
Cottage Crios is a charming little stone house located near the sea in a beautiful bay of Grebišće, just 2km east of Jelsa. In an idyllic setting, in the middle of the century old pine forest near the amazing sandy beach, Crios is a very romantic place.

Cottage Euterpe - accommodates 7 people - 
Euterpe reminds us of harmonious, light music of some past, beautiful times. There is no excess, no unnecessary details, yet you have everything you need – from the house itself to the center of Jelsa, where Euterpe is located.
For all of you in need of luxury, we have some true gems at your disposal.
Villa Atlas - accomodates 14 people - 
A wonderful example of contemporary architecture, Atlas is designed with special attention to details and intention to maximize living experience, simultaneously offering its visitors designer furniture, lightning, and artwork. The beach and the town are within walking distance of the villa. Plus, it has one of the coolest views ever.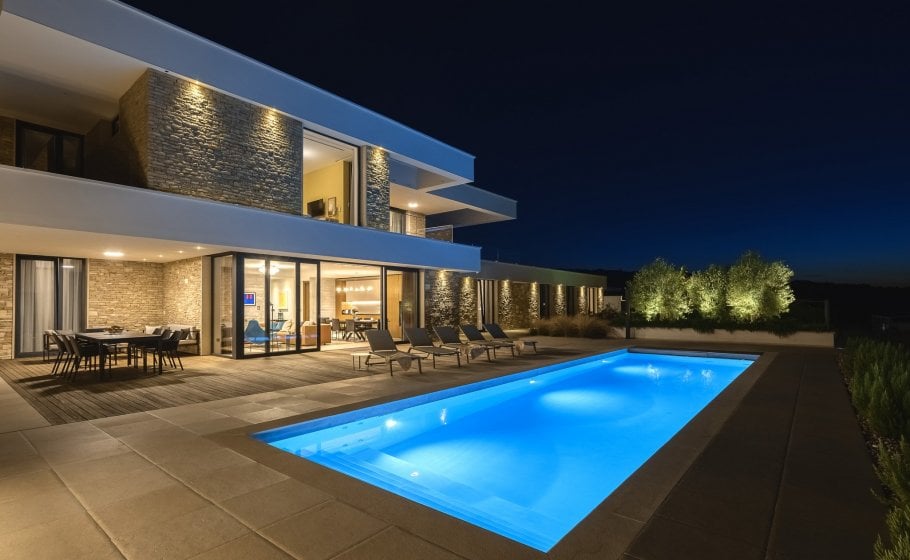 Villa Geras - accomodates 12 people -
Villa Geras has fantastic, highly stylized spaces filled with amazing details. It is unbelievably cozy and comfortable at the same time. Palace breathes luxury but doesn't lack warmth either. Add to that its strong personality and you got yourself a whole package.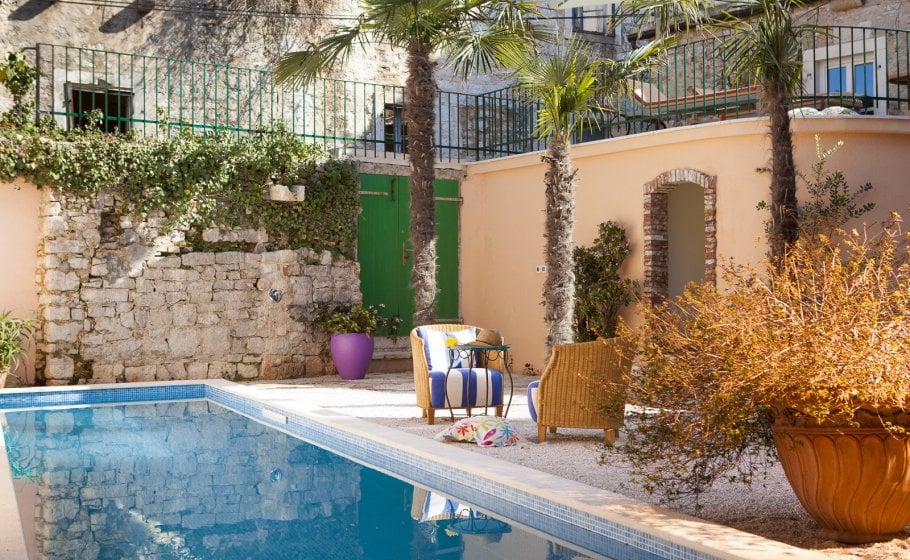 We probably haven't covered all of your needs, but that's why we have a 24/7 concierge service at your disposal! Contact us for all local recommendations, in Jelsa and other parts of Hvar.