We live in strange times. Uncertainty has become our present. But it is not human nature to thrive in this constant flux of change as we get more confused by it. All we want is life as we know it.
At the same time, a paradox is happening to many of us. We are already a bit used to the social distancing. Instead of attending and enjoying mass gatherings, we are looking more and more for peace and tranquillity. We need to escape somewhere far away from everything, and recharge our batteries, craving a holiday away from the noise and crowds.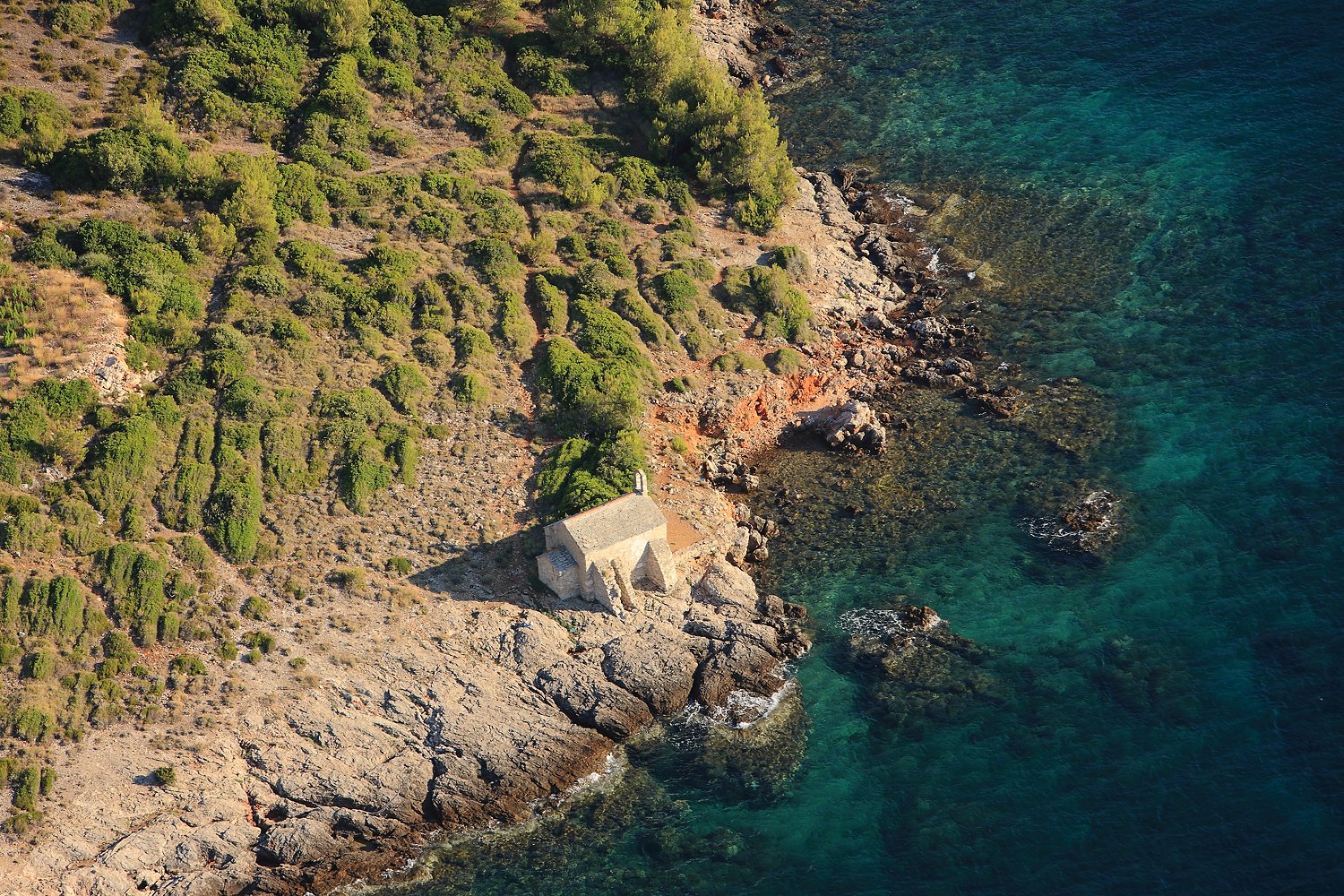 Our soul wants peace. It is a peace that we can find in nature, surrounded by its beauties, silence, the sound of crickets, and a walk by the sea—a cure for all our senses. Synergy with nature is more important than ever. Being in nature is an experience that gives us back our positivity and recharges our batteries for everything that awaits us.
YOUR SAFE HOLIDAY ON HVAR ISLAND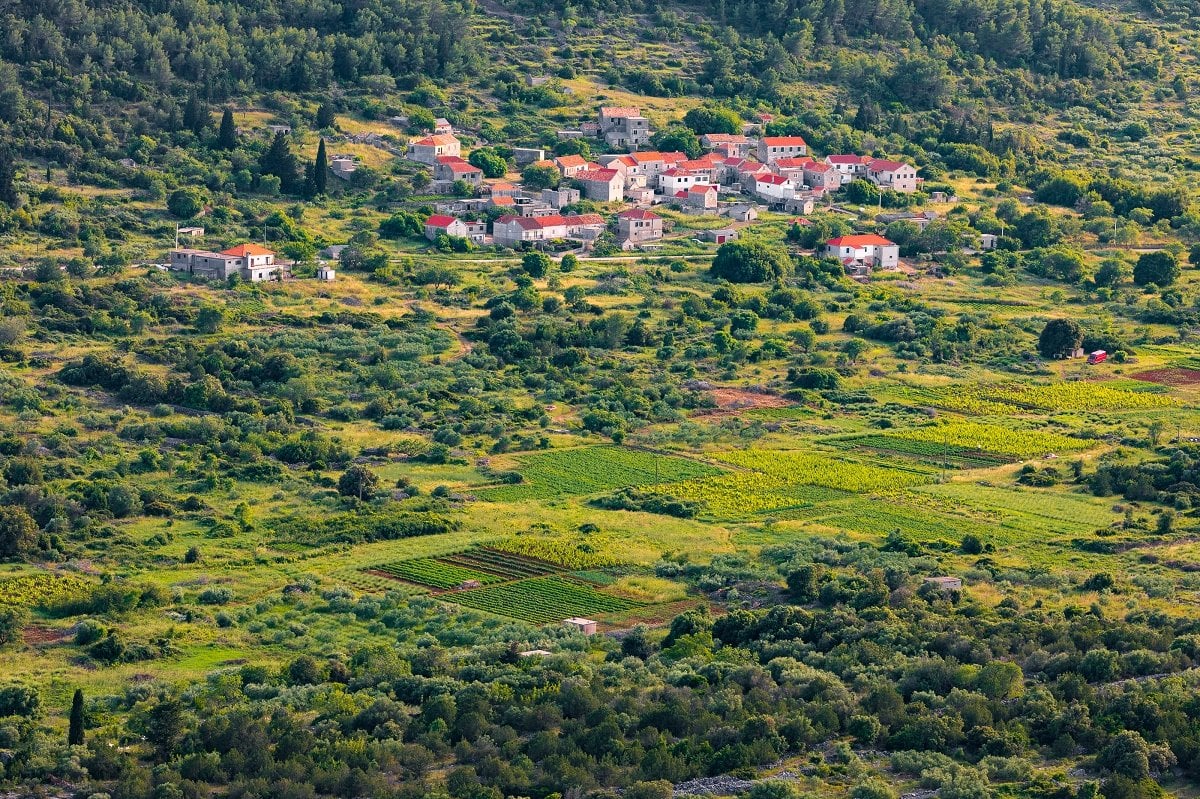 Travelling now might be a little more complicated, but if you are well informed and prepared, it will not take you too much time. The price worth paying to come to a destination will provide you with everything you need and much more than you expect. Destinations like the island of Hvar have never been more beautiful precisely because, in the summer months, you can experience the true beauty of Hvar as it is only in the post-season. 
It can be a unique opportunity for you. For us, nothing has changed. Guests of Villas Hvar have always been those who like the privacy of their villas. It is the perfect time to experience Hvar Island in all its authenticity and create memories of a lifetime. The island of Hvar is an island to which everyone returns.
Staying in a secluded villa with all the benefits of 24/7 concierge services and the highest standards for safety and health is your most logical choice. And visiting the most beautiful island in Europe at its best is a unique opportunity. 
REGAIN YOUR POSITIVITY BY STAYING IN VILLA ZEUS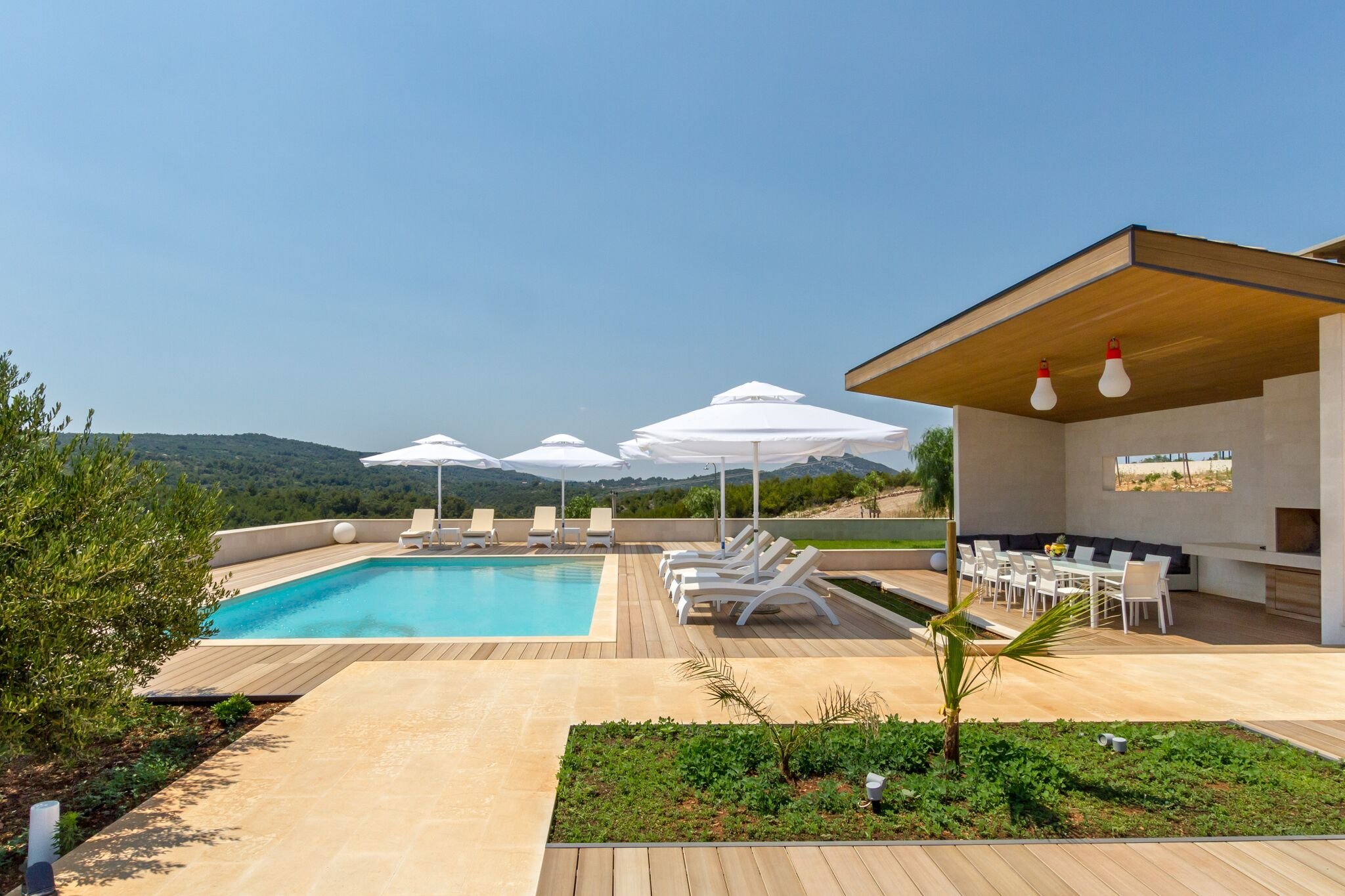 One of our villas, villa Zeus, is an exciting mixture of modern, Mediterranean, and cosmopolitan, presenting the unique external architectural solutions combined with the local tradition and natural beauties.
Exclusivity, privacy, and luxurious facilities are the main characteristics of this superior property. Peace and silence that surrounds it guarantee a quality rest, both of your body and the soul. In contrast, the evening starlit sky sets the view to be long remembered by everyone who strikes it lucky and ends up being welcomed by the mighty Zeus.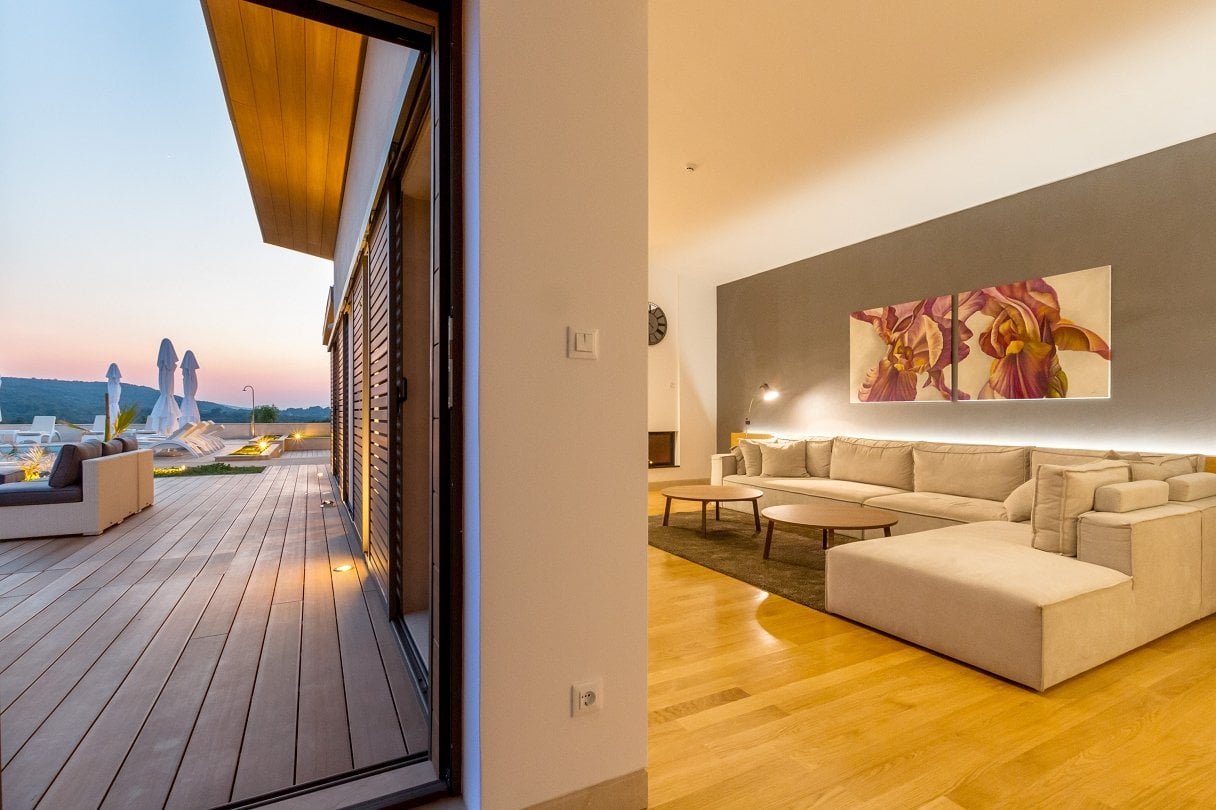 The house is located in the central, rural part of the island, on a hill safeguarding Pokrivenik, one of the most beautiful bays on Hvar, only a 30-minute distance from Jelsa, surrounded by autochthonous vegetation and centennial pine trees. The walk to the Villa seems to be the journey back to old, remote, forgotten times. 
Many daily activities can be enjoyed in a specially designed pergola with a large built-in barbecue, outdoor mini-bar and lounge seating, dining al fresco. In front of the pergola, there is a spacious sun deck with a large swimming pool.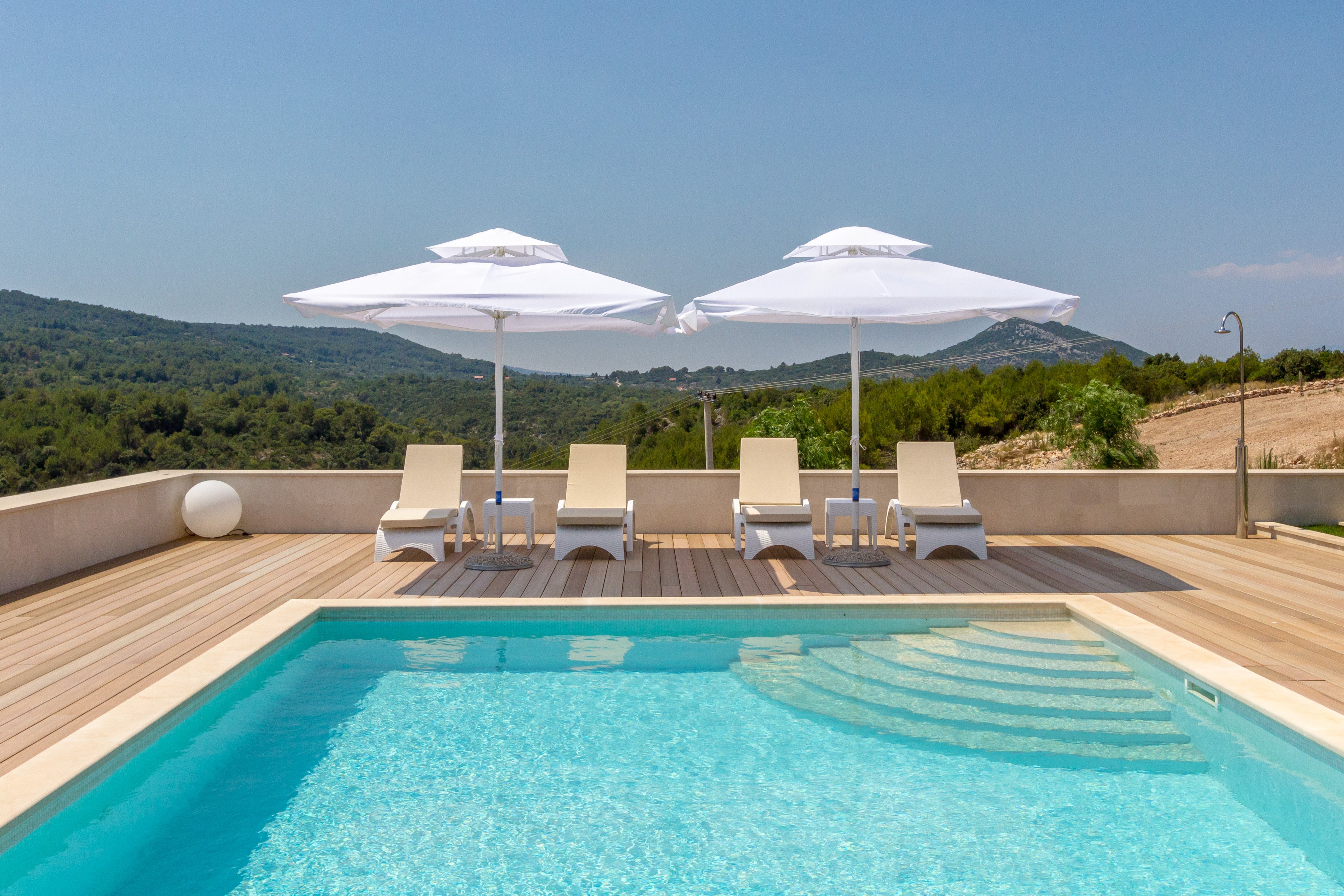 Just a few minutes' drive from the estate, there are numerous hidden coves and pristine beaches with the crystal-clear water. 
Villa Zeus is one of the few houses on Hvar island that boasts a five-star categorization.
Once you become our guest, you are a member of our family, and we know how to take care of you and fulfill all your needs and wishes.
Hvar Island has his power to make you feel that you belong here.